Kayaking with us
The Kayak, originally an Eskimo marine vessel for hunting, has evolved to a boat suitable for all types of aquatic environments; it is rightly considered to be one of the most ancient and versatile means of exploring the world's Blue Tracks. If you're already familiar with kayaking, you can choose guided descents on Tuscany's most beautiful rivers, otherwise, if you would like to start learning or improve your technique, you can choose the most appropriate course, from basic to advanced, from eskimo courses to those on the ecology and dynamics of river environments. For fishermen, or those of you who would like to experience nautical camping and/or excursions, we have specific courses for the use of Sit-On-Top (SOT) kayaks, with external seats, which are very stable and ideal for practicing these activities without coming to any harm. T-rafting enables you to have fun safely, with all the technical support, gear and equipment necessary to practise this sport at the right level, either alone or in the company of old and new friends. Before participating in courses and excursions, it will be necessary to become a member of Aquaterra A.S.D

Trips and courses
GUIDED RIVER DESCENTS – Based on your abilities, we can organize descents for groups of no more than five people, of 1st, 2nd and 3rd degree rivers, according to the WW scale. Depending on the season, the weather, and water levels, you can descend the Arno, Sieve, Lima, Santerno, Merse, Ombrone, and Serchio rivers. For those of you with the right level of technical know-how, seeking strong emotions and adrenaline rushes, there are other spectacular trails…
Price: private individuals €60 per person – €45 for 2 people – €40 for groups > 3 participants.
GUIDED TRIPS – We organize exploratory and naturalistic guided tours of Tuscany's coasts (the promontories of Piombino and Baratti, Argentario, Bandite di Scarlino, Capraia, Giglio, Elba) and inland waterways (Lake Bilancino, Montedoglio, Invasi di Levane and La Penna, and Padule di Fucecchio). You can explore our territory from a completely different angle, discovering its unexpected charm and beauty.
Price: to be agreed upon according to the destination and length of the excursion
KAYAK COURSES and TRAINING – It is possible to choose from one of the following courses:


Things to know
Clothing and equipment
T-rafting supplies safety equipment, suitable clothing and gear for water: neoprene wetsuits and/or protective vests, water jackets, life jackets, helmets, splash guards, kayaks and paddles. We recommend that you also  bring a fleece to wear under your wetsuit during the cold season, and a T-shirt for the same purpose during the warm season. We do not provide footwear, therefore we recommend that you bring a pair of shoes with rubber soles (sneakers are the most suitable) that can get wet, and that you wear them with woollen socks to keep you warm even when wet, or neoprene shoes and/or climbing boots.
Weather
Kayaking on the river, lake or sea, like all outdoor sports, is influenced by the weather, but can generally be practised even in the rain and bad weather – with the exception of extreme weather conditions – as long as people take necessary precautions to prevent themselves from becoming cold during these activities.
Safety and water levels
It is the prerogative of T-rafting to work in safety, therefore, at the sole discretion of the Association, guides and instructors, programmes are subject to change (change of route, river or, in the worst case, the cancellation of a descent) should, for example, raising water levels pose a threat to general safety. The state of river levels and sea conditions are officially reported on-line by the Centro Funzionale Regione Toscana, and assessed by our expert guides and instructors.
Spirit of adventure
Descending rivers, going along coasts or traversing lakes, even when carried out in familiar places and within pre-established safety limits, are always adventures subject to infinite variables, making the same route always new. For this reason, embarking also means adapting, having fun, and breaking habits to rediscover that spirit of adventure that lies within us all.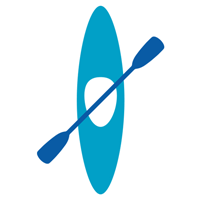 Eskimo roll
Course to learn the eskimo roll, a fundamental maneuver to enable you to flip your kayak back over should you ever end up upside down, which will make your descents a lot safer, and much less tiring!
4 lessons of 1.5 hours
Price: €50 for groups of a minimum of 3 participants plus eventual swimming pool expenses

River ecology and dynamics
Course on freshwater ecology the dynamics of currents, recognizing river plants, aquatic fauna,  hydromorphology and water lines.
2 theoretical/practical lessons of 1.5 hours
Price: €65 per person – €50 for 2 people – €35 per group > 3 participants.